Ajahn Aik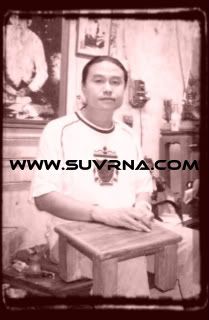 Ajahn Aik/Aek studied Sak Yant at Wat Bang Phra where the legendary LP Phern resided the home of the modern resurgence of Sak Yant. From a very young age his affinity and skill started for the art of Sak Yant, hence he is a renowed master amongst locals and foreigners alike. AJ Aik is also the sole true disciple of AJ Fon's lineage. AJ Fon Dee Sawan was a very famous kalawat or white robe ajahn born in 1883, who suffered from a rare disease that disfigured his face but his resiliance, character and devotion made him one of the most revered white robe Ajahns of his time.
Firstly a little bit about Ajahn Fon. AJ Fon had extrodinary memory power which enabled him to memorise kathas which formed a major part of the study of Wicha. By doing so he excelled quickly. He was well known for his ability to heal poisonous snake bites, bleeding and other healing capabilities, one of things he used to do was to but a long wound of his leg and heal it immediately in front of people. He performed his duty as a monk to till the point he felt his calling would be best answered by praticing as a white robe ajahn allowing him the flexibility to perform the magick he wanted to help people.
Despite his disfigured appearance he had more then one wife and several children. He was able to make his appearance attractive to women solely by incantation and mind power. Khun Pean placed charming powder in woman's food to place them under his control but AJ Fon merely used his mind power to get what he wanted. AJ Fon was renown for being able to slice his skin on his leg open and immediately be able to heal it by using magickal incantations and powers. In 1940 the Thai King himself asked monks in the kingdom to provide amulets to all soldiers for protection but out of all the white robe Ajahns in Thailand only AJ Fon was chosen.
Today Ajahn Aek is known to be the sole practitioner left of AJ Fon's magickal lineage. His amulets ie, takrud, metta oil, look om and other amulets are very powerful and have magickal properties similar to that of AJ Fon. However the number of amulets he produces is very limited. Hence this is an unbelievable opportunity that should not be missed.
It was a real challenge finding Ajahn Aik's samnak. My friends did not have the exact address but merely the vicinity and it wasn't enough. Nobody seemed to know where his Ajahn was located, finally just before we gave up a man in a coffee shop told us he knew exactly where this Ajahn was located. He hailed the motorbike taxis for us and gave the directions to the drivers. When we got to the samnak, it was closed. He strolled to the nearby temple to seek shelter from the scorching sun. There we met the amulet shop owner who had nothing but compliments about Ajahn Aik and she told us how he has helped many in the area but he only opens his samnak in the evening. We waited there and visited the samnak at sundown. Ajahn Aik held no air about himself, he was simple in demeanour and welcoming. Two of my friends got sak yants (holy tattoos) from him. He concentrated on his work ardently and seems to very hard working person. I picked out what amulets I could that were reasonable in price and what I thought people would like and need.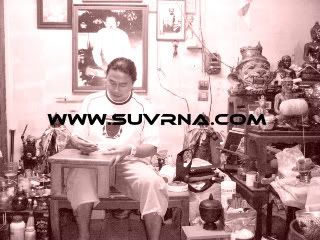 This is our experience when we visited, everyone has his/her own experience and variables might have changed since our visit:
This is our experience when we visited, everyone has his/her own experience and variables might have changed since our visit:
Spiritual Power: ***** (4/5) Powerful
Price of sak yant: ***** (5/5) Reasonable prices, Ha Taew approx 10 cm in length and 6 cm wide set us back THB 500
Quality of Sak Yant, ie line quality, design, shading: ****(4/5) Lines look quite fine but work is nevertheless good.
Choice of sak yant designs: ***(3/5) Designs available at samnak was reasonable.
Kho Haam (Rules of conduct for Sak Yant): 1) No sexual misconduct (meaning do not sleep with someones wife knowingly) 2) Do no insult parents
Ajahn Aik Special Look Om / Luk Om
When I took this amulet in my hand I was able to feel a vibration from it also later that day two of my friends received a sak yant from him and one went into trance.

I was surprised to find that this powerful amulet was created to have multiple effects of kongkrapan, klew klad and surprisingly also mahaniyom and mahalarp. In other words it assists in averting danger, invisibility to sharp objects, great popularity and good luck.
When I asked for a Katha they mentioned that this particular item does not require one, just concentrate you mind on what you want this item to do for you. It's such a rare item and very few were made 5 pieces were rented by my friends I only have 3 left, so hurry if this item is something you want/need. This is a small yet potent item that does not require any katha/mantra recitation.
This amulet is designed to assist you in the following aspects:
· Avoiding dangerous situations, everybody will need this

· Protection from sharp objects

· Improve loving kindness towards people

· Bring forth prosperous business & career development